O Christmas Tree #2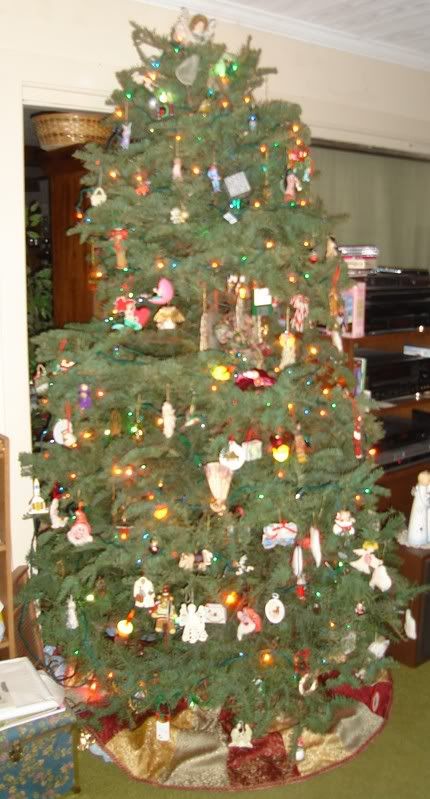 This time it's the tree in our living room. Truly one of the most beautiful we've ever had. But I say that every year, lol. It's a 7 foot tall Noble fir, real of course. I love real trees and so does my dad. He won't even entertain the thought of a fake tree as long as he's alive. Nobles have such a wonderful Christmassy scent too.
Our tree stand is a hair on the large side for the trunk, so we weren't able to put as many ornaments on it as we usually do. It tried to tip over on me, so I stopped. That gray square ornament is a Borg cube from Star Trek:TNG. It plugs into the light string and has a button on the bottom and the inside also lights up, just like a real Borg cube. Push the button and it says "We are the Borg. Resistance is futile. Enjoy your holidays". Belongs to my dad the Trekker. He has also has the Enterprise-A and the Romulan ship from Enterprise. I'm not sure which one he's getting this year.
A lot of the ornaments are handmade and have stories attached to them. I think those are the best kind. The ornament of th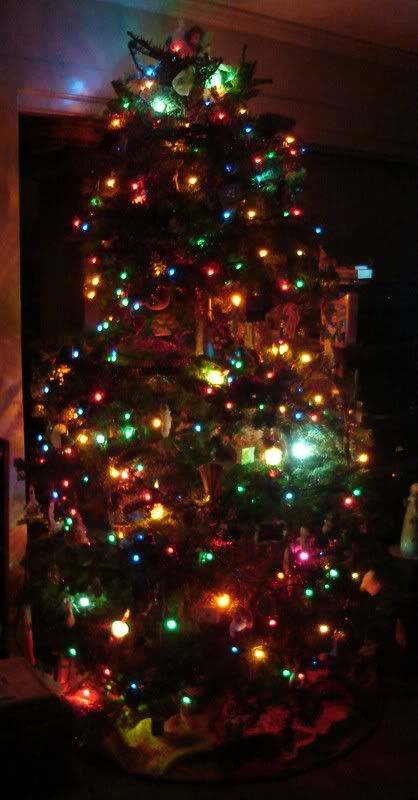 e 7 dwarves are ones I made with a kit. They're very cute. We also have an ornament from every place that we visit. You can't see it, but we have one of the Ponderosa map from the Bonanza credits! And our angel looks like a Gibson girl and she has feathery wings.
And this one just because I like pictures of trees when all the lights are turned off.
Haven't gotten a lot of stitching done this last week between working and decorating, not being home and generally feeling "blah" because of the cold snap last week. Fibromyalgia + cold = one miserable person. I did start the Joy ornament from the 2005 JCS. It's nearly done and once it is done I'll finish it out and find a place to put it on the tree. I'm doing it with VC Evergreen and Wine.
The week between Christmas and New Year's I'm going up to see my Mimi. I'm thinking about taking AR and St. Basil's. Both will just blow her mind. And I love them so much. S.B. is starting to whimper at me, though not very loudly yet. And I'll take my knitting too I expect.